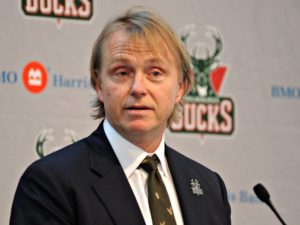 GateHouse Media's buying and slashing spree has led to the wholesale deterioration of once-great newspaper properties.
The United Media Guild sees this damage daily while representing members at the Peoria Journal Star, State Journal-Register of Springfield, Rockford Register Star, Pekin Daily Times and Freeport Journal Standard.
Major shareholders in GateHouse's parent company, New Media Investment Group, are taking note.  They voted overwhelmingly in favor of the UMG's non-binding proposal for an annual election of directors instead of staggered elections.
Shareholders also withheld votes for New Media Investment Group board chairman Wes Edens by a 2-to-1 margin, signaling considerable unrest.
UMG president Jeff Gordon presented the good governance proposal at New Media's annual shareholders meeting in suburban Rochester, N.Y., May 25. UMG business representative Shannon Duffy and NewsGuild-CWA sector representative Tammy Turnbull also attended the meeting.
Earlier in the month NewsGuild-CWA supported this proposal with letters to top New Media shareholders, seeking to create a more responsive board.
In its letter to shareholders, TNG-CWA noted that: "At a time when newspaper publishers and employees must work together to promote the value of real news and find revenue solutions in a distressed industry, New Media has demoralized its workforce with an eternal wage freeze (up to a decade at some properties), constant layoffs and a more hostile negotiating stance at NewsGuild-represented units. In our opinion, cost-cutting through headcount reductions has reached the point of negative returns."
While the cuts maximized cash flow to pay stock dividends and fund further acquisitions, it also undermined the whole enterprise. Circulation is down, print advertising is way down and the gains in digital advertising and the Propel Marketing initiative haven't offset that decline.
Not only has the company lost great journalists to layoffs and voluntary departures, it has also churned salespersons, advertising managers, publishers, regional executives and even national-level managers.
Against the backdrop, UMG's proposal won in a landslide, 35 million to 7.2 million. Edens, a principal in Fortress Investment Group, received 14.3 million votes "for" and had 28 million votes withheld.
New Media's buy-and-slash newspaper strategy has worked great for Edens and Fortress, the company's external manager. Fortress has collected more than $60 million in management fees and incentive compensation since launching and expanding the company from the ashes of GateHouse Media's $1.2 billion bankruptcy.
The strategy has been less great for shareholders, producing healthy dividends but driving down the stock price. After topping $25 per share back in March, 2015, New Media stock was trading at about $13 on May 31.
Analysts began souring on New Media stock last year, changing "buy" ratings to "hold" or "sell". Earlier in May, New Media's board of directors authorized a $100 million stock buyback during the next year to shore up the stock's price.
Hence the shareholder interest in creating a board of directors more aligned with their interests rather than the interests of Fortress. Although the UMG proposal was non-binding, the Council of Institutional Investors notes that 75 percent of majority-supported proposals are implemented withing three years.
And while Edens remains the board chairman, the Council of Institutional Investors believes directors failing to receive a majority vote in uncontested elections should resign.
"CII's corporate governance policies state that in uncontested elections, directors should be elected by majority vote; directors who fail to receive a majority support should step down from the board and not be reappointed," it notes on its website.
Edens did not attend the shareholders meeting. Gordon, Duffy and Turnbull engaged New Media CEO Michael Reed in an informal discussion after the brief shareholders meeting. Reed listened to the Guild's concerns about the state of his newsrooms and expressed his own concerns about the negative impact of the Guild's community and corporate campaigns.
Almost every Guild contract at GateHouse-operated newspapers is currently open with little to no progress being made in negotiations. As a result, TNG-CWA locals in that fight have joined forces in a multi-faceted initiative against the company that includes joint mobilization, joint bargaining strategies, community campaigns, organizing efforts at unrepresented newspapers and a broader corporate campaign with shareholder outreach.