By a tally of 78-4, Post-Dispatch members ratified a new three-year agreement which will run through September 30, 2021.  The new agreement calls for 2% wage increases in the first and third years, free parking (which had suddenly become important when the paper sold the building) and increased seniority protections (fewer exemptions are now allowed in each department when layoffs occur).  There is also a proviso for our sales representatives to receive $100 if they are not given their period goals before the start of the actual period.  The agreement increased the percentage of premium share for Guild members from 30% to 35% and it also increased the probationary period for new hires from nine months to one year.
While the wage increases are not large, after this contract our members will have received a 10% increase over six years and in an industry obsessed with declining advertising revenues and reducing labor costs, the election results convey the confidence of Post-Dispatch members that their bargaining team secured the best possible deal.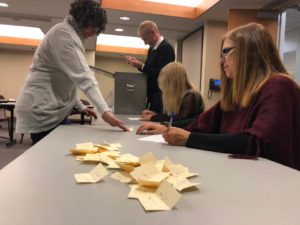 Negotiations took place over a two week period in St. Louis.  They were preceded by conversations in the workplace, meetings with individuals in every area and the distribution of surveys which were collected and tallied.  Thanks go out to all those who gave up their time to take part in this effort.   Special shout out to Joe Holleman, Post-Dispatch unit chair for shepherding the many moving parts.