One of the United Media Guild's core missions is promoting the craft of journalism during this critical time in our industry and in our society.
At the recommendation of UMG vice president Joe Kenny, our executive committee voted to restore its scholarship offered in conjunction with the St. Louis Press Club and the Journalism Foundation of Metropolitan St. Louis.
Kenny, a reporter at the St. Louis Review, serves on the Press Club's scholarship selection committee. He has long advocated Guild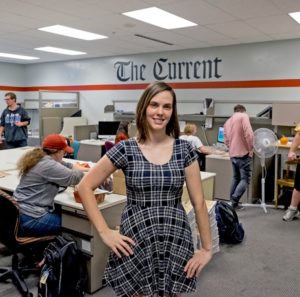 outreach to student journalists.
This year's UMG scholarship recipient is Kat Riddler, a graduate student at the University of Missouri-St. Louis and a graduate of St. Charles High School. As editor in chief of The Current student publication, she has led the newsroom and reported on a variety of issues critical to the school and the surrounding community — including the civil unrest in Ferguson, a neighboring community of the UMSL campus.
She and the other scholarship winners were honored by the Press Club during at Thursday luncheon at the International Photography Hall of Fame. Lynden Steele, director of photography for the St. Louis Post-Dispatch, gave a presentation on the craft of photojournalism and the Pulitzer Prize-winning work the UMG-represented photo staff.