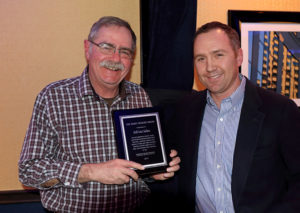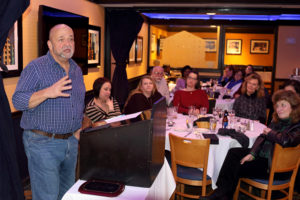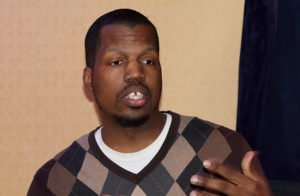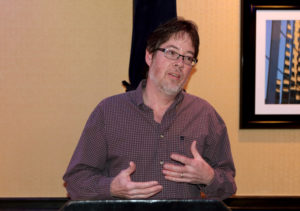 The United Media Guild honored its top activists and celebrated great journalism at its Local Meeting Feb. 6.
Longtime St. Louis Post-Dispatch columnist Bill McClellan won the UMG's Terry Hughes Award, which is judged each year by a panel of former winners of the award.
Ms. Hughes, a columnist for the Post-Dispatch, was 36 when she died of breast cancer on July 22, 1991. Her writing was clear, witty and descriptive, with a flair for portraying society's underdogs. The same could be said for McClellan's work.
He sat near Hughes in the Post-Dispatch newspapers and was a great admirer of her work. If she were still alive, McClellan said, "she would have served as a mentor for our young journalists, especially the women."
McClellan received his award from last year's winner, Post-Dispatch reporter Joel Currier.
Columnist Joe Holleman, chair of our Post-Dispatch unit, was honored as Guilder of the Year. He has long been a strong advocate for all of our members at the Post, not just those in the newsroom.
David Blackford of the Pekin Daily Times was named Steward of the Year. There have been no shortage of issues to address at that newspaper — it is owned by GateHouse Media, after all — and he has helped us resolve many problems. Blackford noted that as a former UAW member in the auto industry, he learned the value of unionism and the need to step up for co-workers.
Rockford Register Star reporter Kristen Zambo was named Activist of the Year. Like Blackford, she works for GateHouse. Like Pekin, Rockford has had no shortage of problems to address while continuing its fight for a fair first contract. Zambo stepped as acting unit chair after the previous chair, photographer Max Gersh, moved on to a new job in Florida.
Our members of the "Fight for 15" campaign were honored with the Solidarity Award. That is a new UMG unit with members spanning the contiguous United States. The unit's St. Louis-area steward, Stanley Jackson, took a bow for the group.