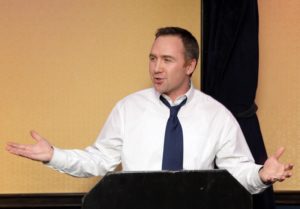 The United Media Guild honored St. Louis Post-Dispatch reporter Joel Currier with the Terry Hughes Award for outstanding journalism in 2016.
Currier received the award, judged by past winners, at UMG's Local meeting and awards ceremony Feb, 2 at Lombardo's restaurant in St. Louis.
Post-Dispatch reporter Michelle Munz, the Hughes award winner in 2015, cited several stories Currier reported for the Post-Dispatch during the presentation. In particular, his story about an innocent woman incarcerated for one year awaiting trial for a murder she did not commit was a compelling example of how journalists can shed light on the plight of society's underdogs.
Also at the dinner, the UMG honored State Journal-Register reporter Jason Nevel with its Guilder of the Year Award. Nevel, vice chair of our Springfield (Ill.) unit, has played an instrumental role in the three-year fight for a first contract at that newspaper.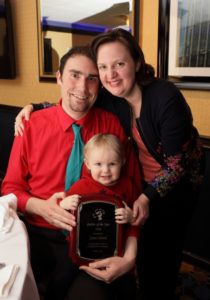 He has assisted unit chair Dean Olsen and business representative Shannon Duffy in contract negotiations and helped drive our internal and external mobilization. He has donated hundreds of hours to our campaign at the expense of time with his young family.
Nevel loves journalism and he believes in the SJ-R's vital role in the greater Springfield community. So he is helping lead the fight against GateHouse Media, the asset-stripping manager of the SJ-R and four other papers the UMG represents in Illinois — The Peoria Journal Star, Rockford Register Star, Freeport Journal Standard and the Pekin Daily Times.
Also honored at the UMG event were Post-Dispatch advertising representative John DuBois as Steward of the Year, the Mid-South Organizing Committee for the Solidarity Award and Local president Jeff Gordon as Activist of the Year.