The United Media Guild honored some of its top activists and one of its most accomplished journalists Thursday night at its annual Local Meeting and awards dinner.
St. Louis Post-Dispatch columnist Tony Messenger won the Terry Hughes Award for exemplary journalism. UMG secretary Doug Moore, himself a more Hughes Award winner, explained why:
His columns on debtors' prisons in rural Missouri started with the case of Victoria Branson, a woman from St. Francois County who had been sent to prison because she couldn't afford court costs in a long defunct child support case. Branson was released from prison after Messenger's column about her was published. Soon, tips came in from all over Missouri's rural counties of similar stories, and Messenger worked closely with the state public defender's office, which was filing appeals in such cases, arguing that a scheme to use the courts as a collection service for expensive jail bills amounted to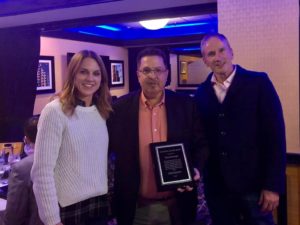 a modern day debtors' prison.
On Wednesday, the Missouri Supreme Court held arguments in two of the cases Messenger has written about. Two of the legal briefs filed in the case reference Messenger's columns as evidence for the court to declare the scheme illegal.
Shawn Anglin, an editor and reporter at The Southern Illinoisan, was honored as Guilder of the Year. Anglin is the unit chair of this newly-organized group. Journalists at The Southern voted 12-0 to join the Guild and they are currently bargaining their first contract.
The Southern unit won the UMG's Solidarity Award for that unanimous vote and for its
ongoing internal and external mobilization. Sportswriter Todd Hefferman, the unit vice chair, and reporter Marilyn Halstead, the unit secretary, accepted the award.
Retired Labor Tribune reporter Kevin Madden received the Activist of the Year Award for his tireless effort to defeat "Right to Work" in Missouri. Madden, the long-time unit chair at the Tribune, spent long days gathering signatures in support of other progressive ballot initiatives as well.
"Fight for 15" activist Stanley Jackson received the Steward of the Year. He provided invaluable leadership for of UMG's national unit of organizers who mobilize fast-food workers in the fight for better wages.