The United Media Guild congratulates the journalists of the Lakeland Ledger for voting in The NewsGuild 22-3 Thursday afternoon.
That becomes the first newsroom organized in Florida — and we expect more to follow, especially at papers owned by the asset-stripping New Media Investment Group/GateHouse Media.
Our members at the St. Louis Post-Dispatch, Truthout, Peoria Journal Star, State Journal-Register, Pekin Daily Times, Rockford Register Star, Freeport Journal-Standard, St. Louis Review and the St. Louis/Southern Illinois Labor Tribune consider this fight to be their fight.
The Lakeland campaign was developed by Dean Olsen, a reporter at the State Journal-Register and the chairman of the UMG's Springfield unit. (The UMG has received inquiries from GateHouse employees at countless newspapers across the country inquiring about representation.)
Lakeland journalists gained collective voice in their workplace and in their community. As Guild members, they will able to bargain for important job protections and rally public support for the essential work they do.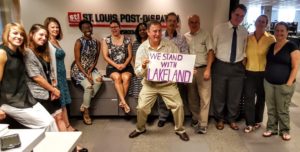 Like other newspapers operated by GateHouse Media, the Ledger has suffered drastic newsroom cuts. Its parent company, New Media Investment Group, strips down its newspapers, maximizing cash flow to pay dividends and fund more purchases. Journalism suffers greatly under this business model.
Employees of the Pekin Daily Times fought back against GateHouse by organizing with the United Media Guild. So did journalists at the State Journal-Register and the Freeport Journal-Standard.
Union membership has had its benefits:
The Pekin Daily Times survived the consolidation of GateHouse publications in its area while some non-union operations went away.
Peoria Journal Star journalists fought off the outsourcing of their copy desk in their last two contracts.
Our members at all of these newspapers gained critical "just cause" protections against unfair firings.
In Rockford and Freeport, journalists gained the right to address newsroom problems with the grievance/arbitration process while still negotiating a first contract.
Our members the State Journal-Register fought for journalism integrity in its first contract — gaining, among other things, protection from writing advertorial copy.
While non-union employees at the Register Star, Journal-Standard and State Journal-Register suffered annual increases in their health care premiums, premiums for UMG members were frozen during contract negotiations.
These are just some examples of how unionization helped our members at other GateHouse newspapers. Now journalists at the Lakeland Ledger will gain such benefits too.