More than 50 of our retiree members from the Post-Dispatch, Labor Tribune and KSDK units gathered for their annual luncheon Oct. 18 at Lombardo's restaurant in downtown St. Louis.
This was a great chance for retirees and alumni to catch up with old f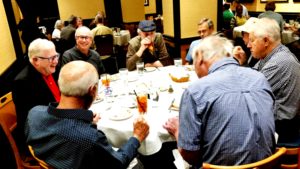 riends — and for the United Media Guild to reconnect with several folks we lost contact with through the years. Several of our retirees and alumni reached out to former co-workers and encouraged them to attend the event. We added several new retiree/alumni members at the luncheon.
This event also gave us an opportunity to update our data base so we can remain engaged with people who helped build and sustain our local union. Many of them have remained active in the labor and progressive communities.
The UMG owes its ability to represent members — and organize new ones — to those that came before us.
If you used to work at one of the units we represent and would like to become a retiree/alumni member, please contact the UMG office. Annual retiree/alumni dues are $12.