During our battle for a first contract in Springfield, Ill., GateHouse Media has absolutely, positively refused to negotiate raises.
The company took this hard line even though GateHouse emerged from bankruptcy flush with capital as part of its new parent company, New Media Investment Group.
The company took this draconian stance despite the positive cash flow generated at the State Journal-Register and the company overall.
GateHouse maintained its abusive pay freeze despite massive newsroom cuts that forced surviving journalists to shoulder greater workloads while trying to stem the eroding quality of the SJ-R.
Company negotiator Ali Zoibi even refused to offer bonuses tied to newsroom performance, though our members have done an outstanding job driving digital traffic and fulfilling other company initiatives under increasingly difficult conditions.
His "last, best and final" offer amounted to a pay cut for our members — many of whom had gone 8 1/2 years without  a raise. Not surprisingly, our members voted down that offer.
So the company declared impasse and imposed conditions on our members, essentially extending its wage freeze for another three years. The imposition of these conditions could result in some members going 11 1/2 years without a raise.
That's eleven and one-half years.
While these imposed conditions includes annual bonuses, the company is jacking up medical premiums from nearly 15 percent to 27 percent, depending on the employee's plan. This will result in an imposed pay cut for many of our members.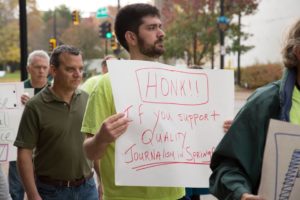 Meanwhile GateHouse media is vacuuming cash out of Springfield to fund New Media Investment Group dividend payments and acquisitions. By buying more properties, the company is creating greater cash flow — and masking the damage that excessive cost-cutting has done to its existing properties. Readers and advertisers have grown weary of paying more for less.
As a result of all this, the United Media Guild has no choice but to escalate its public campaign in Springfield. It will also join other NewsGuild locals across the country in a concerted corporate campaign against the vulture capitalists at GateHouse/New Media.