With revenues at the St. Louis Post-Dispatch continuing to decline, Lee Enterprises laid off four reporters and one photographer at the newspaper Monday.
UMG's contract with the Post-Dispatch allows our members to volunteer to take the layoff in place of an impacted employee.
Members hired before the 1994 contract can collect 26 weeks severance for volunteering to leave. Those hired after that can collect one week's pay for every year worked.
Our members have two weeks to decide whether they want to take a voluntary departure. Anybody with questions should contact UMG business representative Shannon Duffy or P-D unit chair Joe Holleman.
The laid off journalists will be paid for the next two weeks while this process plays out.
One of the impacted reporters was already leaving the newspaper. And we know there is at least one journalist interested in retiring, so we're hoping to bring at least one of the laid-off journalists back.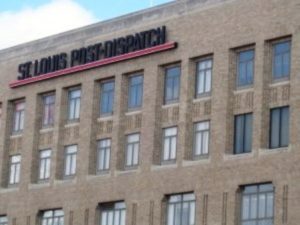 Unfortunately there is little UMG can do to prevent lay-offs, other than to seek voluntary departures and raise public awareness of the news operation's downsizing. The Post-Dispatch remains profitable but its parent company Lee Enterprises, like GateHouse Media, is maximizing cash flow at its properties. While GateHouse uses that cash flow to pay big dividends to investors, fund acquisitions and pay massive management fees to the money guys behind it (Fortress Investment Group), Lee is using the cash flow to aggressively pay down its crippling debt.
With revenues declining 10 to 15 percent per year in the industry, Lee is slashing the corresponding percentage in costs to maintain debt repayment. As a result, papers like The Southern Illinoisan can barely operate and the Post-Dispatch operation just keeps shrinking.