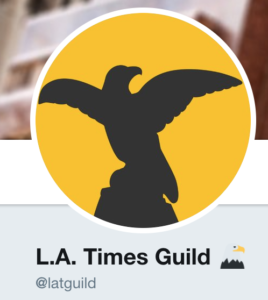 The NewsGuild-CWA is fighting to preserve the craft of journalism and improve working conditions for journalists across North America.
Journalists at news organizations large and small have come to TNG-CWA seeking to unionize. Recently the Los Angeles Times newsroom filed for an representation election for the union with the National Labor Relations Board.
The organizing drive was a collaborative effort between TNG-CWA, CWA District 9 and various local TNG-CWA unions. Among the activists participating in the drive was United Media Guild vice president David Carson, a Pulitzer Prize-winning photographer at the St. Louis Post-Dispatch.
"The Los Angeles Times is a great paper, and it will only be better with a democratic newsroom," TNG-CWA president Bernie Lunzer said. "This is a chance to have a seat at the table."
TNG-CWA already represents journalists at the New York Times, Washington Post, Wall Street Journal, Associated Press and several other major metropolitan newspapers — including the Boston Globe, Providence Journal, Baltimore Sun, Philadelphia Inquirer, Philadelphia Daily News, Chicago Sun-Times, Milwaukee Journal Sentinel, Memphis Commercial Appeal, Denver Post, Minneapolis Star-Tribune and San Francisco Chronicle.
The United Media Guild, a local union in TNG-CWA, represents employees at the Post-Dispatch, Peoria Journal Star, State Journal-Register, Rockford Register Star and Pekin Daily Times as well as the St. Louis Review, St. Louis Labor Tribune and the national Truthout digital publication.
UMG also helped initiate the successful organizing drives at the Sarasota Herald-Tribune and Lakeland Ledger in Florida.