Earlier this year the United Media Guild honored St. Louis Post-Dispatch columnist Tony Messenger with its Terry Hughes Award for exemplary journalism. His exposure of Missouri's "debtors prisons" stirred outrage and triggered change.
Monday he won a something exponentially greater for his work: the Pulitzer Prize.
With his series of compelling columns, Messenger told the stories of individuals exploited by the legal system in Missouri.
"It's a story about how we treat people in our state," Messenger amid a celebration in the Post-Dispatch newsroom. "It's a story I'm going to keep telling."
As the Post-Dispatch noted:
Messenger's columns led to significant action. The Missouri Supreme Court unanimously said that the state's judges cannot use their courts to threaten indigent defendants with jail time, nor to collect such debts as court costs. The Missouri House passed a bill that would make all such collections civil procedures. The state Senate is now considering the bill . . .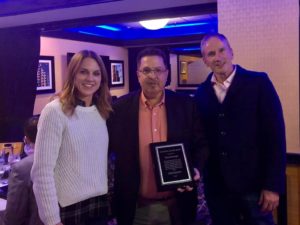 Those columns, said Michael Wolff, a retired Missouri Supreme Court chief justice and former dean of the St. Louis University School of Law, tell the story of prosecutors and judges across the state putting people in jail simply because they are poor. 
"It is a rare and beautiful thing when solid reporting so shocks the legal system that change becomes inevitable," Wolff wrote in support of Messenger's nomination. "Tony Messenger is making that kind of impact."
Messenger joined the Post-Dispatch photography staff as UMG members recently winning the Pulitzer, journalism's most cherished prize. The photographers won in 2015 for their vivid coverage of the Ferguson unrest after the fatal shooting of Michael Brown.
These award-winning efforts are shining examples of the vital role great journalism plays in our society. This is why we will continue to fight for the craft of journalism and all of the UMG members doing public good at the Post-Dispatch, Peoria Journal-Star, State Journal-Register, Rockford Register Star, The Southern Illinoisan, Pekin Daily Times, St. Louis Review,  St. Louis Labor Tribune and Truthout.