Members of the United Media Guild were on the front lines of the fight against "Right to Work" in Missouri.
Some of our retiree members helped gather signatures the more than 310,000 signatures that forced the issue to a state-wide ballot.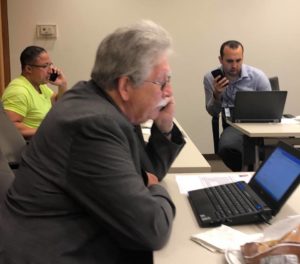 Our Labor Tribune unit played a key role in the anti-RTW messaging. Members of our Missouri Jobs with Justice unit got out into our communities explaining why RTW would be bad for the state's workers.
And top officers in  the Communications Workers of America — the parent union of The NewsGuild and UMG — joined the phone bank effort from their office in Washington D.C.
CWA president Chris Shelton and CWA secretary-treasurer Sara Steffens were among those reaching out to voters.
Ultimately "Right to Work" lost in Missouri by a resounding 2-to-1 margin. Voters rejected this attempt to weaken the labor movement by allowing workers to benefit from union representation without paying dues.
Such legislation erodes worker solidarity and diminishes the resources unions need to gain and enforce contracts.
"This has never been about workers receiving an extra 25 cents an hour or a 401k match," UMG business representative Shannon Duffy wrote in an essay published on the Labor Notes website. "That's small potatoes to them, an annoyance. This is the result of planning on a grand scale. It has to do with keeping workers disorganized and, if possible, at each other's throats—because a disorganized workplace, where workers feel powerless, prevents our ability to act collectively in the broader struggle for social and economic justice."