During his two decades at the helm of the St. Louis Newspaper Guild, Robert A. Steinke built one of the strongest and most enduring local unions in The NewsGuild.
He represented workers at the St. Louis Post-Dispatch, the St. Louis Globe-Democrat, the St. Louis Labor Tribune, the St. Louis Review and KSDK-TV  with distinction from 1968 until his retirement in 1988.
Mr. Steinke died Aug. 10. Visitation will be held Friday, Aug. 12, from 6 p.m. to 8 p.m. at Kutis Funeral Home South County, 5255 Lemay Ferry. In lieu of flowers donations to the  American  Kidney Association would be appreciated.
Mr. Steinke became active in the local union while working in the Post-Dispatch circulation department. He joined the TNG's international staff in 1967 and became executive secretary of the St. Louis local the following year.
"His contributions to The Newspaper Guild's membership in St. Louis and throughout our international union have been unequaled throughout our history," TNG president Chuck Dale told the Post-Dispatch when Mr. Steinke retired.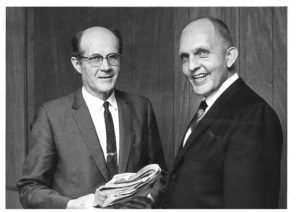 Mr. Steinke, a former Marine, was known for his no-nonsense negotiating style.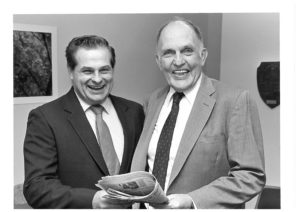 "Bob is big a gruff, but beneath that he is one of the gentlest people I've ever met," Dale told the Post-Dispatch. "He is a very soft-hearted person. When somebody is in real trouble, he reaches way down to be helpful."
His commanding leadership got the Local through difficult times, such as the great newspaper strike of 1978-79, the Herald Company's 1983 decision to fold the Globe-Democrat and the subsequent Globe struggles under the ill-fated ownership of Jeff Gluck.
He was elected Secretary-Treasurer of the Missouri AFL-CIO in 1982, but he stepped down to resume his work for the Guild.
Members of St. Louis local, now known as the United Media Guild, still benefit from his stewardship today. Successors Herb Goodrick and Shannon Duffy worked from a position of strength after inheriting strong contract language, high activism levels and outstanding financial resources from his tenure.
"Mr. Steinke spent his life building this union and fighting for the rights of workers," Duffy said.  "Our Local today continues in the path he helped carve out and we are all better off because of his service."
We are all indebted to Mr. Steinke and his outstanding work on behalf of members. His legacy will loom large for decades to come.