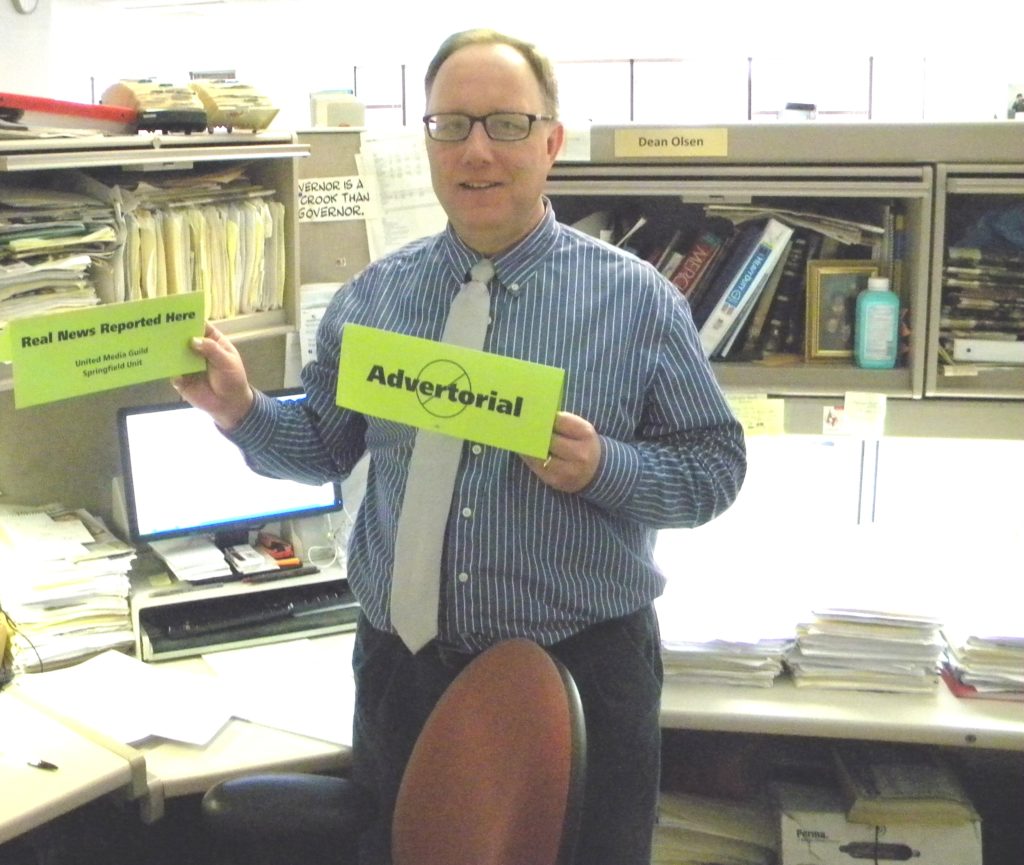 The News Guild honored Dean Olsen with the Larry Cohen Movement Building Award at its national Sector Conference Aug. 4 in Pittsburgh.
Olsen, a decorated news reporter, led our organizing drive at the State Journal-Register and served as Springfield unit chair since Day 1. He followed that internal organizing success — which resulted in a 26-4 vote to unionize — by leading a textbook external organizing effort in central Illinois.
With Olsen leading the charge, our Springfield members reached far beyond the local labor community for support in their fight against the asset-stripping GateHouse Media management. These journalists manned an information booth at the Labor Pavilion at the Illinois State fair and encouraged readers from across the region to sign support cards to be forwarded to the newspaper's management.
The SJ-R staff also gained the support of political, business and religious leaders who agreed that Springfield deserved a first-rate newspaper — something GateHouse threatened with draconian staff cutbacks and a years-long pay freeze at the profitable publication.
Olsen and Co. staged successful public demonstrations, drew extensive media coverage and gained advertiser support. The backed their "Save the SJ-R" radio advertising campaign by making numerous speaking appearances in the community.
Those efforts finally coaxed a contract proposal from GateHouse, but it did not include raises. The Springfield unit voted down the offer and has worked under imposed conditions since while continuing its fight for a fair agreement.
Olsen assisted in our successful organizing drive at the Rockford Register Star, working with activists at that GateHouse newspaper to win another vote. At the behest of The News Guild's national office, he made contacts at news operations across the country and triggered successful organizing drives in Lakeland and Sarasota.
Those are the first two Guild newspapers in Florida, which is notoriously hostile to labor unions.
Olsen was an obvious choice for this award, which is named after retired Communications Workers of America president Larry Cohen. (Appropriately, the first winner of the national award was Olsen's mentor in the labor movement, UMG business representative Shannon Duffy.)
Cohen urges local unions to build bargaining power by joining the larger progressive movement and becoming part of a broader coalition. Olsen succeeded on local and national levels, rallying public support for the State Journal-Register contract push while also inspiring journalists to join the larger corporate campaign against GateHouse.
The UMG has been blessed with many remarkable leaders over the years and Olsen stands tall among them. His groundbreaking internal and external mobilizing creates vivid best practices for current and future activists to follow.