The United Media Guild hosted about 40 retiree members at its annual Retiree/Alumni Luncheon Nov. 28 at Lombardo's in St. Louis.
It was great to see former UMG business representative Mary Casey and forme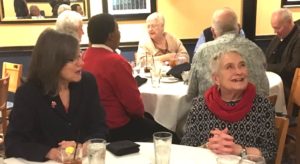 r UMG office at the event, along with many of our former officers — including Tim O'Neil, Denise Fleming, Virginia Hicks Gilbert, Kevin Madden, Theresa Cobb and Ed Cirar.
Semi-retired Post-Dispatch columnist Bill McClellan attended and reminisced with former newsroom colleagues such as Michael Sorkin, Roy Malone, Bill Smith, Barry Gilbert, Alan Fredman and Geoffrey Dubson
Retiree/alumni membership is open to all former UMG members. Contact office Rachel Zaron (rzaron@unitedmediaguild.org) if you are interested.